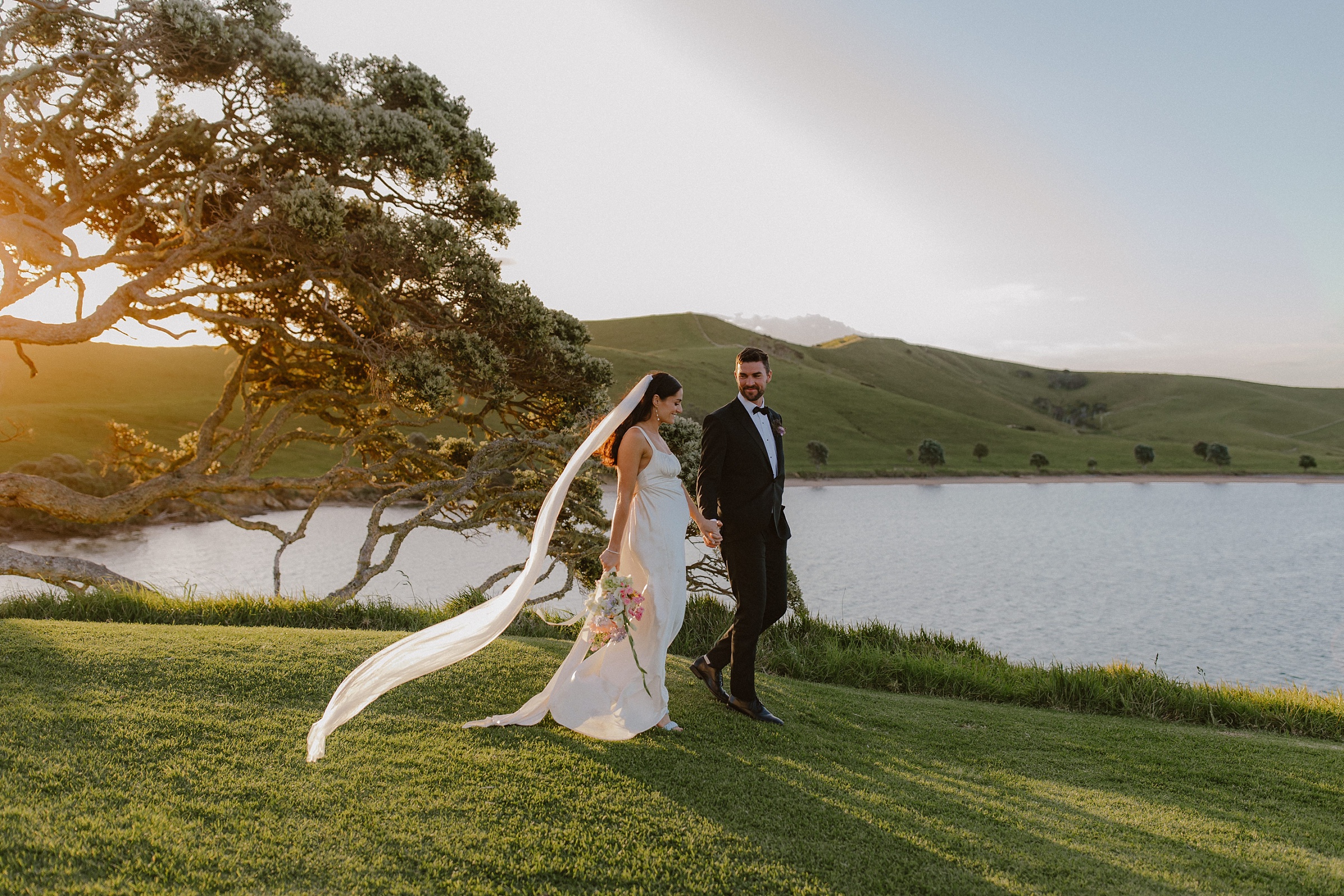 13 Aug

Alex & MitchelL. Baylys Farm Wedding

Nestled in the picturesque beauty of Northland, New Zealand, Baylys Farm stands as a stunning testament to nature's grandeur. This breathtaking venue overlooking the Bay of Islands is the backdrop to countless cherished memories. For Alex and Mitchell, this was the perfect setting to celebrate their love and union in a classic, yet contemporary, and relaxed wedding. The couple's journey led them to this extraordinary location, filled with significance, love, and memories of home. For Alex and her family, Baylys Farm is not just any wedding venue; it's a cherished piece of their hometown. Having grown up in the serene town of Kerikeri, Northland holds a special place in their hearts. The wedding venue offers panoramic views of the Bay of Islands, a vista that can only be described as breathtaking. This locale is where Alex and Mitchell wanted to create unforgettable memories, and it was the perfect place for their dream wedding.

Alex and Mitchell's wedding radiated a classic, yet contemporary and relaxed style. The couple aimed to create an atmosphere that combined timeless elegance with a laid-back vibe. Their love story and the venue's natural beauty set the stage for an extraordinary celebration. The couple infused a vibrant and colorful vibe into their wedding with bright and beautiful flowers that adorned the venue. The bridesmaids wore stunning vibrant blue dresses, adding a playful touch to the classic style. This burst of color perfectly complemented the natural beauty of Baylys Farm.

Alex and Mitchell's wedding was a true celebration of life, love, and everything they hold dear. The heart of the day lay in the cocktails, the presence of their cherished family and friends, the awe-inspiring venue, the delectable food, and the music that filled the air with joy and excitement. Amidst the excitement and celebration, Alex and Mitchell took a few moments away from their guests to capture the beauty of the day. The radiant sunset provided the perfect backdrop for some breathtaking photographs, encapsulating the profound love they share and the beginning of their journey as a married couple.

Alex and Mitchell's wedding at Baylys Farm in Northland was nothing short of magical. The celebration was a beautiful reflection of the couple's love story, with each detail carefully chosen to create an incredible atmosphere. As the sun set on this special day, it marked not just the end of a memorable wedding but the beginning of a lifetime of happiness and love for Alex and Mitchell. Their journey, celebrated at Baylys Farm, will forever remain a cherished memory for them and their loved ones.