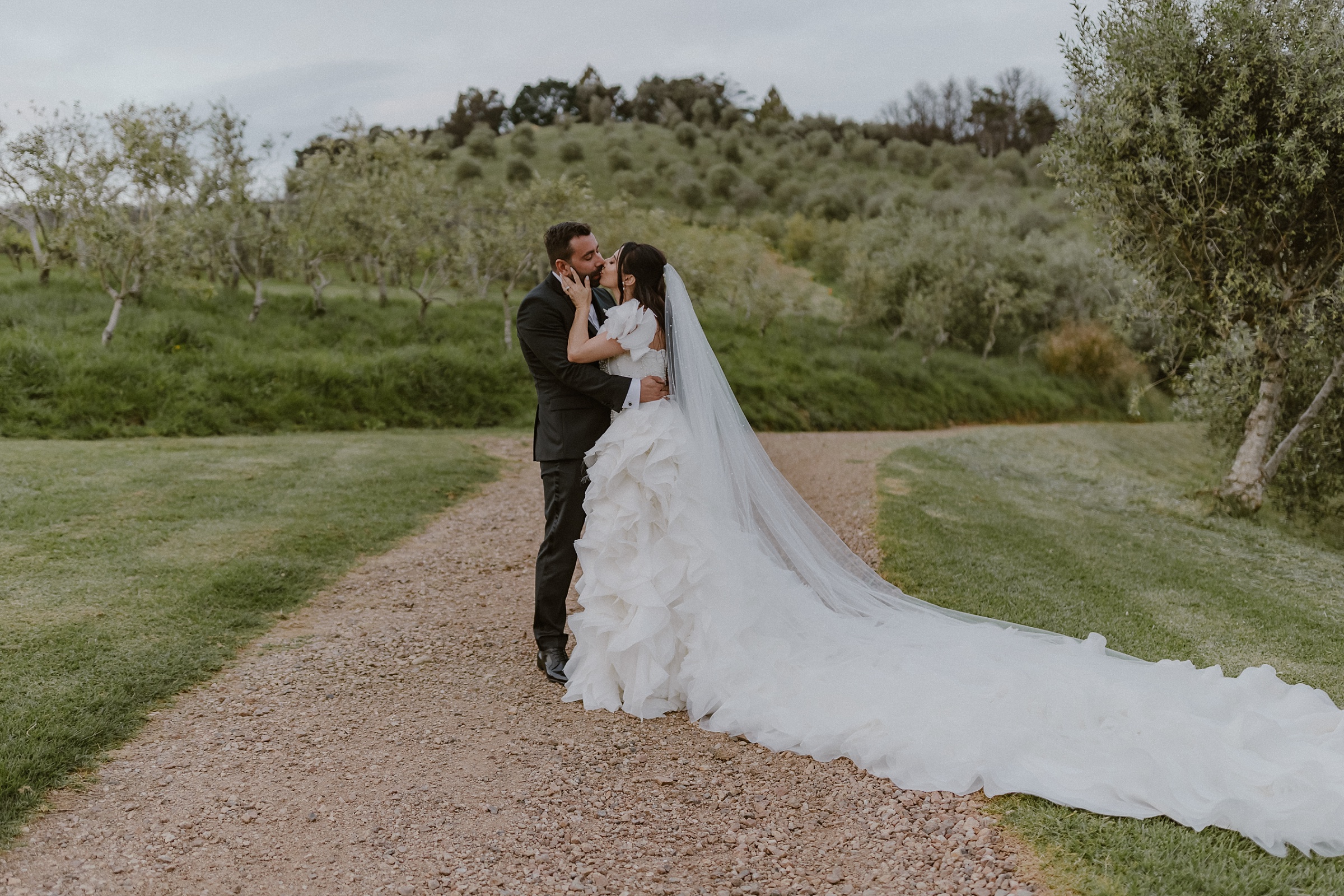 09 Aug

Celina & Raphael. Tantalus Estate Wedding on Waiheke Island

When it comes to weddings, there's something magical about being behind the camera lens, capturing moments that will be cherished for a lifetime. And that's exactly what I had the privilege of doing at Celina and Raphael's stylish and fun-filled wedding on the breathtaking Waiheke Island. From the incredible light to the out-of-this-world dress, and even Brazilian dancers, this wedding was a photographer's dream come true.

Celina and Raphael's love story reads like a page-turning romance novel. Imagine Celina, in her gym gear, innocently agreeing to meet Raphael on Quay Street to check out a car. Little did she know that this was just the beginning of a grand adventure. Raphael whisked her away to a helipad, where he playfully tossed a white dress and shoes at her – a moment that signaled something wonderful was about to happen. They took to the skies in a helicopter, landing on a hilltop overlooking Bethell's Beach, where a stone engraved with the words "True love doesn't have a happy ending, it is never ending" awaited them. The scene was set for their incredible journey together.

Raphael's Brazilian roots and their shared love for summer days on the boat near Waiheke Island inspired the couple to choose this stunning location for their special day. Their story, a blend of cultures and shared experiences, was reflected in every detail of their wedding. The ceremony and reception exuded an elegant and timeless vibe, with a twist of Brazilian flavor. The surprise entrance of samba dancers and drummers added an electric energy to the reception, infusing it with the vivacious spirit of Brazil. And let's not forget the ceremony, where the ethereal sounds of a harp transported everyone to a place of beauty and serenity. It was a true embodiment of the couple's vision – a day that seamlessly blended elegance with the vibrancy of Brazilian culture.

As a photographer, I'm privy to the candid moments that happen behind the scenes. The couple's relaxed and joyful personalities radiated throughout the day, making every moment a memory worth capturing. And even amidst all the grace and glamour, there were light-hearted moments that added to the charm of the day. Who could forget the warm temperatures that led to a slightly melted cake, requiring some last-minute rescue operations? Laughs were shared, and in hindsight, it's just another chapter in the book of their unforgettable day.

Can I mention Celina's dress that was more than just a piece of clothing? It was a true masterpiece crafted by the talented Anthony Montesano of Signor Mont. Every bead was meticulously hand-stitched onto the dress, a labor of love that took over 200 hours to complete. The dress flowed with ruffles created from hundreds of meters of silk organza, culminating in a breathtaking three-meter-long train. Celina was truly a vision, a radiant bride who perfectly embodied the elegant and timeless mood of the day.

In the end, Celina and Raphael's wedding on Waiheke Island wasn't just a celebration of love; it was a symphony of cultures, memories, and emotions. As a photographer, I felt like a privileged storyteller, capturing the essence of their journey in every frame. The light was magical, the Brazilian dancers electrifying, and the love between Celina and Raphael palpable. It's weddings like these that remind me why I do what I do – to capture the beauty of life's most precious moments and turn them into eternal memories.