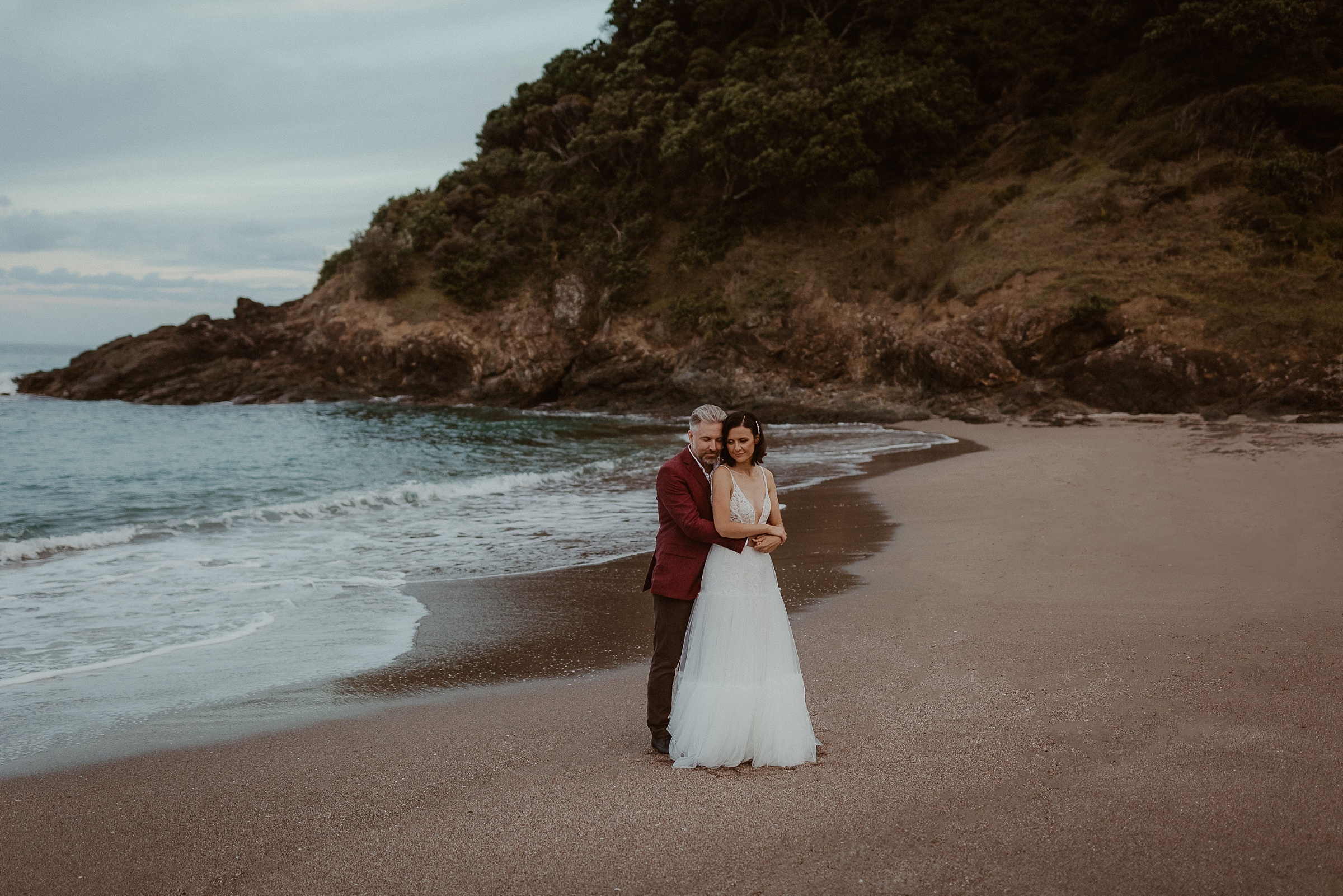 28 Feb

Kelly & Ryan's Bay of Islands Northland Elopement

As a wedding photographer, I am fortunate to be entrusted with capturing the most profound and cherished moments of a couple's journey. Each story has its own unique charm, and Kelly and Ryan's elopement at Oke Beach House in Russell, Bay of Islands, Northland, New Zealand, was a celebration that will forever hold a special place in my heart.

What truly made Kelly and Ryan's elopement stand out was the way their love enveloped their entire family. Their three beautiful children played an integral role in every aspect of the day, from the initial excitement of getting dressed alongside their parents to a touching reading during the ceremony. This wasn't just a union of two souls; it was a union of two families, coming together in a symphony of love and togetherness.

The day was adorned with touches of simplicity and elegance, mirroring the beauty of the natural surroundings. Kelly's choice of attire was impeccable—a gorgeous floaty dress that seemed to dance with the wind. She radiated joy as she twirled and spun around, her skirt billowing like a cascade of dreams. Every step she took was a brushstroke of happiness, and I had the privilege of capturing those candid moments of pure bliss.

One of the highlights of the day was our escape to a location that holds a special place in my heart—one of the most stunning spots in all of New Zealand. We ventured to this hidden gem for portraits that would forever encapsulate the essence of Kelly and Ryan's love. While the sun decided to shy away behind the clouds, a full moon emerged from the sea as if to join in the celebration. It was an enchanting display of nature's magic—a reminder that even the universe conspires to make a day special.

The day concluded with a beautiful dinner prepared at the Oke Beach House, a heartfelt gathering filled with laughter, stories, and the warmth of love shared. And as I captured each fleeting moment—the stolen glances, the laughter, the candid embraces—I couldn't help but be moved by the depth of their connection.

Kelly and Ryan's elopement wasn't just a celebration of love; it was a celebration of family, resilience, and the journey of two souls who chose to navigate life's twists and turns together. As their wedding photographer, I felt privileged to be a part of their story, freezing in time the emotions and nuances that made their day so special.