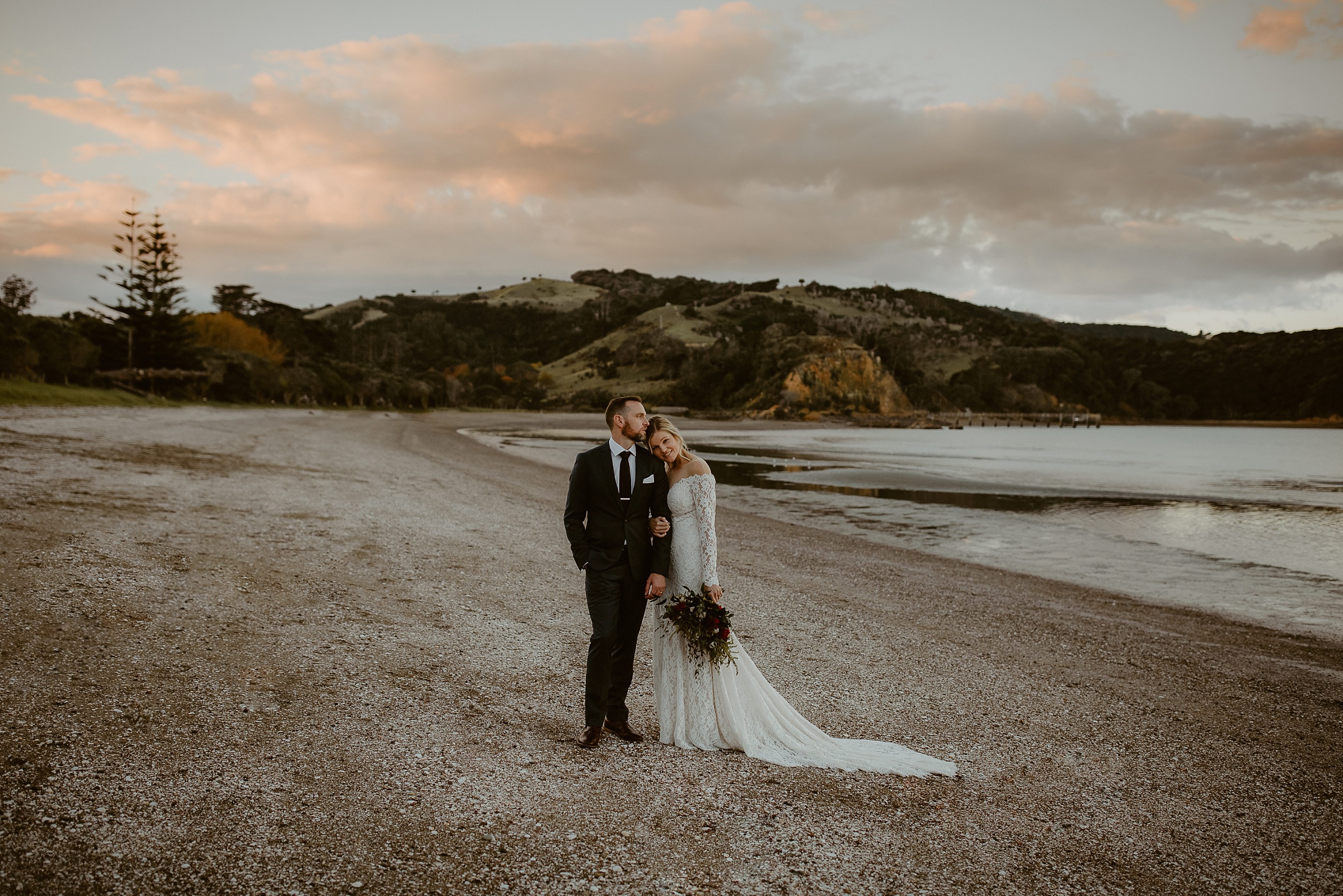 10 Feb

Taryn & Mike. Waiheke Island Elopement at Man-O-War Cottage

Taryn and Mike initially embarked on the journey of planning a grand wedding. Like many couples, they envisioned a large-scale celebration filled with all the frills and thrills that come with a traditional wedding. However, as the planning progressed, they started to feel the weight of expectations and decided that what truly mattered was their love and the presence of their nearest and dearest. With this realization, they chose to embrace a more intimate path and elope with their closest family and friends.

Waiheke Island, known for its picturesque landscapes, was the chosen location for this intimate wedding. Taryn and Mike decided to exchange their vows at the historical Man O War cottage, a place with an old-world charm that perfectly suited the simplicity and elegance they desired for their special day. The cottage's rustic beauty and its proximity to the beach made it an ideal setting for their intimate elopement.

The beachside ceremony was the emotional heart of the day. The sun, casting its warm glow over the stunning bay, set the scene for Taryn and Mike's heartfelt exchange of vows. It was a moment of pure and unadulterated love, and it was impossible to hold back the tears. With their words, they painted a beautiful picture of their love, leaving no eye dry among those present. As Taryn and Mike held each other during the ceremony, their words sang a song of their love. Their vows, filled with sincerity and emotion, left an indelible mark on everyone's hearts. In those moments, it was clear that they were not just saying words, but making promises that would define their shared journey.

Following the ceremony, everyone moved to the cottage's garden to savor champagne and delightful bites. While the guests enjoyed these delicacies, the newlyweds stole a few precious minutes to watch the sun dip below the horizon, symbolizing the start of their new life together. These quiet moments were a testament to the intimacy and genuine connection that Taryn and Mike's wedding represented.

Taryn and Mike's intimate family wedding on Waiheke Island stands as a beautiful reminder of the power of love, the significance of family, and the allure of simplicity. It was a day filled with love, laughter, and emotion—a day where a grand celebration was eclipsed by an intimate gathering of those who mattered most. Their story reminds us that sometimes, all we need for a perfect wedding is love, loved ones, and a beautiful place to celebrate.